Randall Mark, Rabbi
rabbi@shomreitorahwcc.org
Rabbi Randall Mark is the spiritual leader of Congregation Shomrei Torah in Wayne. Prior to serving this congregation he was the Rabbi of Congregation Beth Ahm in Verona for five years and earlier the student rabbi of Congregation B'nai Shalom in Piscataway.
Originally from Minneapolis, MN he received his Bachelor of Arts from Carleton College; his Master of Arts in Hebrew Letters and Rabbinic Ordination from the Reconstructionist Rabbinical College and he also earned a Master of Education in Counseling Psychology from Temple University.
Rabbi Mark is active in the Conservative Movement. He is a Past President of the NJ Region of the Rabbinical Assembly (RA). He has served on the Convention Committee coordinating the Practical Rabbinics sessions for the International RA. He was the founder of the Movement's Regional Leaders Counsel in NJ.
He is also the Chairperson of the Rabbinic Advisory Committee of the Solomon Schechter Day School of Essex and Union and also serves on its Board of Governors. He teaches Rabbinics and serves as the rabbinic authority for the Gerrard Berman Day School, Solomon Schechter of North Jersey in Oakland.
Rabbi Mark is also involved in his local community serving on the Board of the UJA Federation of Northern New Jersey and on the Board of the YM-YWHA of North Jersey in Wayne. He is Secretary/Treasurer of the Wayne Clergy Fellowship (WCF) and a member of the North Jersey Board of Rabbis. He has served as the WCF representative on the Wayne Public School's Committee on Crisis Intervention. When in Verona he served on the Board of Directors of the Jewish Family Service of MetroWest and he was a MetroWest Chaplain serving The Mountainside and Montclair Community Hospitals. He was also a member of The Mountainside Hospital Ethics committee.
Rabbi Mark is married to Dassy (Horn), they have four children: Avi, Penina, Raffi & Danit. Avi is at Rutgers University; Penina, Raffi & Danit attend the Solomon Schechter Day School in West Orange.
Jay Hirschhorn, Administrator
admin@shomreitorahwcc.org
Jay Hirschhorn, the administrator of Shomrei Torah, has been an avid fitness enthusiast his entire adult life. Before coming to Shomrei Torah, he spent a dozen years sharing his passion for fitness as the owner / operator of a neighborhood gym in Washington Heights.
Prior to managing a gym, Jay had a long career in varied aspects of the Wall Street securities industry.
Jay holds a BA in economics and an MBA in finance.
Jay has been a member of (the other) Shomrei Torah, Fair Lawn, NJ for twenty-four years. He has served as President, EVP, Financial Secretary & Treasurer, VP Fundraising and Men's Club Co-President.
His varied skills, training, and experience, both professionally and within his community, make him a perfect fit for our synagogue.
Jay, originally from Brooklyn, is married to his wife, Claire, from Bergenfield, NJ. They are the proud parents of three children and three grandchildren. Jay's mother, Marilyn, is the proudest member of Shomrei Torah, Wayne
Suzanne Zofi, Administrative Assistant
adminassist@shomreitorahwcc.org
Suzanne Zofi has always worked in Jewish communal life, the last decade in the Education Department in Caldwell's Agudath Israel. Zofi was in the very first graduating class of Judaic Studies at Binghamton University and attended Haifa University. She has traveled to Israel many times. Zofi has two adult children, one married.
Judith Kuper Jaffe, Director of Congregational Learning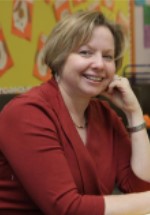 learningdirector@shomreitorahwcc.org
Judith Kuper Jaffe, is the first Director of Congregational Learning at Shomrei Torah - Wayne Conservative Congregation. She comes to Shomrei Torah with a wealth of experience and an abundance of enthusiasm for creating a new and exciting educational vision guaranteed to engage, delight and educate congregants from birth to beyond (adult education too!)
Plans include launching young family engagement, strengthening the religious school, reimagining post Bnei Mitzvah (TASTe: Teens at Shomrei Torah- experience!), and invigorating informal Jewish education including KADIMA and USY, and adult education.
Judy has most recently served as the Director of Congregational Learning at Shomrei Emunah in Montclair for seven years and prior to that, she spent six years as Principal of Beth Am Temple Religious School in Pearl River, NY. Raised in Manhattan, she attended The Ramaz School and Syracuse University, earning a double degree in Mass Communications from the S.I. Newhouse School and history from the Maxwell School.
After many years of teaching religious school, serving as a family educator and youth advisor, Judy returned to school and earned her MAT in Jewish Studies at Fairleigh Dickinson in July 2007, earning both a Principal's License from The National Board of License for Teachers and Principals in Jewish Schools in North America and one of the very first to be granted the Conservative Jewish Education (CJE). As a member of the first cohort of HUC-JIR-JTS Leadership Institute Synagogue Congregational Educators, she took her formal education up another notch.
Judy lives in Bergen County with her husband. She has two adult daughters and one son in law. She is a long time Board member of the Jewish Community Center of Paramus/Congregation Beth Tikvah, Camp Ramah in the Berkshires and the Jewish Community Relations Council.
Gloria Millan, Weekend Custodian
Thu, June 21 2018 8 Tammuz 5778